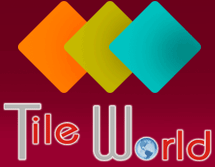 About Tiles

Tiles of the World constantly strives to set a new industry standard for product excellence, inventory selection and customer service. In our showroom, you will find unparalleled selection and service complimented with a warm and friendly atmosphere.
We give the old adage "No job too small or too big" a renewed meaning. We will pursue any opportunity to demonstrate our excellence in the flooring industry.
Contact Us
Phone: +91-98159-78773, 93178-78773
Email: info@thetileworld.com
Company Profile
Tile World is one of the leading importer of "Designer Tiles & Sanitaryware". We are meeting the demands of wide range of customers by providing high quality products at competitive prices. We are offering high value to our customers across the Pan INDIA . Procuring material from various countries such as Italy, Spain, Greece, Turkey, Egypt , China, Vietnam , Indonesia, Thailand etc.

Our kitchen and bathroom resource division helps buyers find high quality products and competitive prices from world class factories and designers .

We provide professional consulting services to all potential customers. Our shop drawings, spread sheets, and tickets effectively help our customers in their bids for projects.

Strict product inspection guarantees our quality for all the products. Our efforts are recognized by customers from more than 320 States. They are fabricators, importers, distributors, wholesalers, retailers, installers, and hotel owners, developers of condos, contractors, construction companies, home builders, architects, interior designers and decoration specialists share our passion for quality and a good job done.